CRAFTSMANSHIP
Our primary focus is and has always been to uplift and bring to light the fine craftsmanship done in the depths of East African artisanal communities.
WOVEN IN AFRICA, MADE IN SPAIN.
WORKING WITH
OUR COMMUNITIES
OUR NETWORK OF
LOCAL ARTISANS
Our Medani and Rwenzori bags are woven in Uganda and Rwanda. The best coil-stitch technique weavers live up in the Rwenzori mountains and the Halfmoon bags are essentially the coil-stitch technique in an entire bag. The Dom bags are woven in Sudan and Chad using the indigenous doum palm leaf. They cut the middle of the banana leaf so it becomes like straw, then they wrap that straw with raffia. The weavers cohort is intense but what inspires us is that it is made up of only women. Some of our weavers became refugees in Chad so we have worked hard to resettle them and find basket weavers to teach them the techniques.
EXPLORE OUR LOCAL COMMUNITIES
Having different weaving communities in different African countries helps the brand adjust to the shocks that can happen, such as political turmoil, climate change, and food insecurity – but everyone is resilient. They continue to weave regardless because they're true artisans and they love what they do. The goal is to teach all weavers each of the techniques, to enable us to continue the craft and the traditions of these incredible women.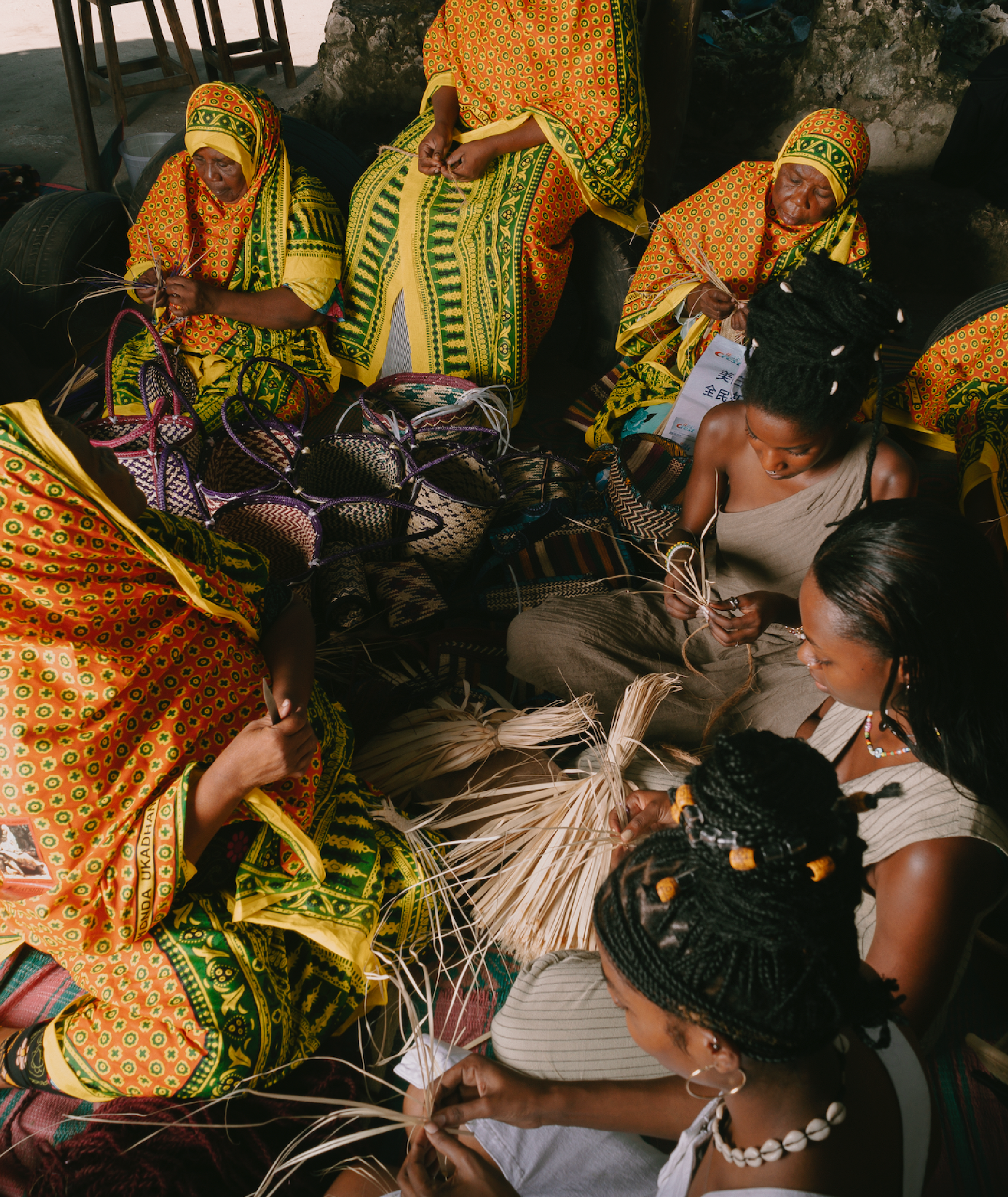 CELEBRATING
THE ART OF                  TRADITION
When it comes to craftsmanship, we focus on essential traditions; we explore design and shape in their purest most organic forms, while also ensuring our bags are effortlessly functional and crafted with purpose for everyday life.
We endeavour to keep our team small, ensuring strong communication channels with our weavers and artisans, and striving to nourish and nurture our long-term relationships that are rooted in respect and admiration.
Our supply chain has been thoughtfully built with transparency at its core. We pride ourselves on celebrating the art of handmade goods, shining a light on time-worn traditions and the intricacies of weaving techniques, found only in specific communities in Africa. We are proud to work so closely with weavers who share our values such as modesty, honesty, and integrity. Drawing inspiration from East African art, we have whole-heartedly embarked on a creative journey that converges with artisans across the globe.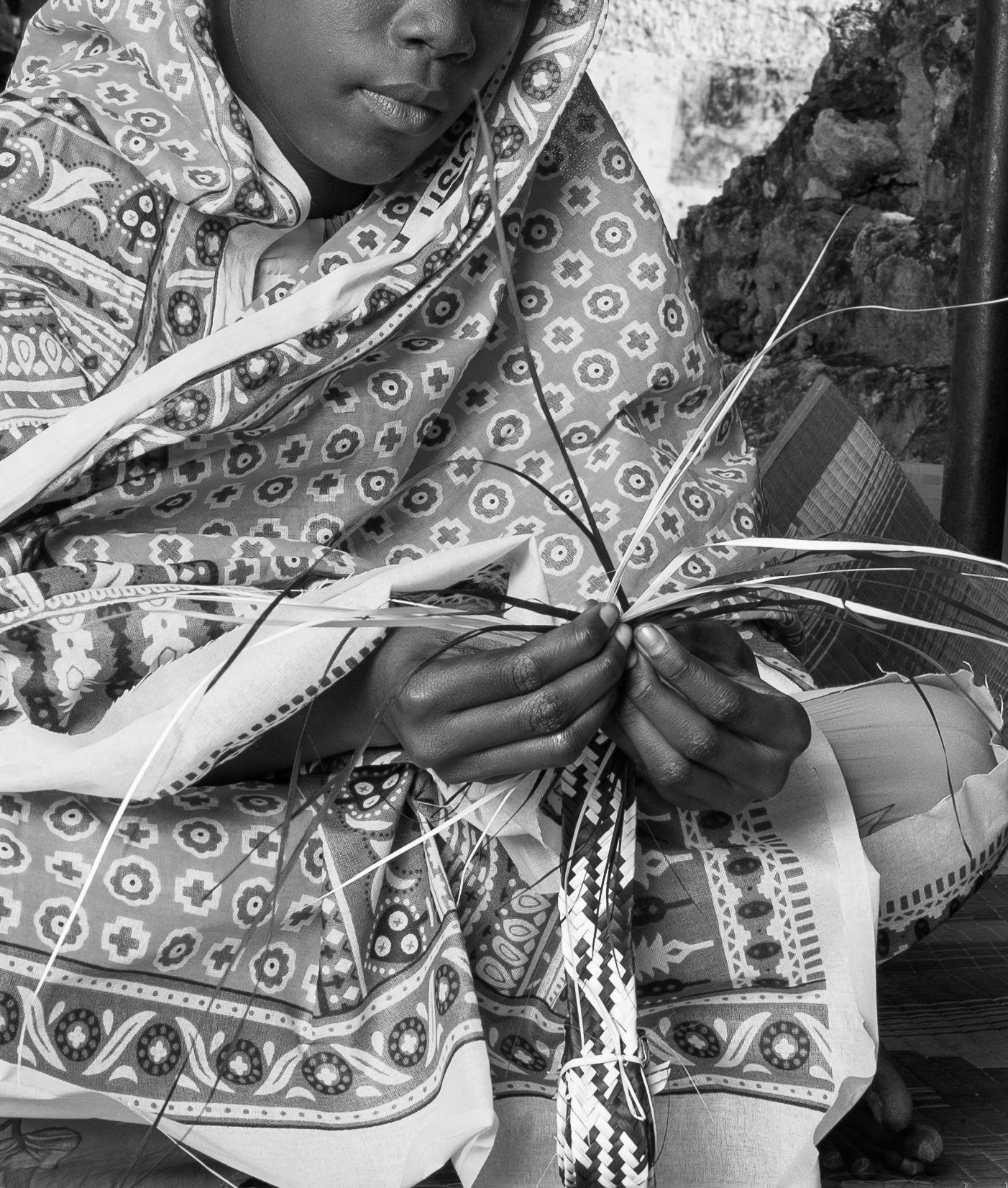 CHOOSING
SUSTAINABLE           PRACTICES
When centering our brand on sustainable practices of using renewable, natural resources and fair trade practices, the process felt organic. East African art inherently obeys the laws of sustainable practices since it is an art form that expresses a tribe's connection to nature. In that sense, coil-stitch weaving was created to be versatile depending on a tribe's movement across the region and their access to different natural resources. 
All our bags are thoughtfully designed with permanence in mind. To ensure the longevity and durability of the handmade nature of our pieces, we encourage you to read our care details thoroughly.